The cost-effective tool for real-time NVH diagnosis
Please note: The NVH kit from Pico Technology only works with our Automotive PicoScopes, and requires an unlock code in order to allow your PicoScope to work with the NVH software. This unlock key is limited to one PicoScope Automotive scope and is not transferable. Supported PicoScope models are 4425, 4225, 4423, 4223. RPM data may be taken from a J2534 Scan Tool or VCI (not included).
Includes accelerometer and microphone
Full screen, high-resolution results are presented clearly and accurately
No external memory required – saves directly to laptop or PC
Record up to 500 seconds of data
Automatic analysis
Detects multiple vehicle vibrations
Customer report function
Plugs into your Automotive PicoScope® (sold separately)
---
Overview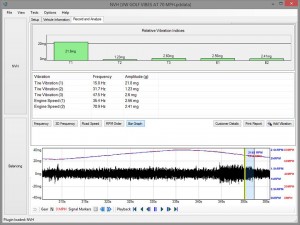 The PicoDiagnostics NVH Kit from Pico Technology is the cost-effective answer to the many NVH problems facing technicians today. Providing real-time diagnosis to the technician in the form of either: a bar graph, a frequency chart, a 3D frequency chart, RPM order or road speed view. The ability to start the recording before a road test, and play back the recording for analysis on your return, ensures that driver attention remains on the road. Saving the recordings couldn't be simpler: much like our other automotive software you simply save the file to your laptop's hard drive.
The PicoDiagnostics NVH kit makes use of the PicoScope 4000 Series Automotive oscilloscope, and comes complete with everything you need (J2534 Scantool or VCI not supplied). You can be sure that your investment in the PicoDiagnostics NVH kit will benefit your business without the need for further spending. If you already have a PicoScope 4000 Series Automotive oscilloscope, you're halfway there.